Improving Junior High School students' vocabulary achievement by using WhatsApp
Keywords:
Messaging application, WhatsApp, achievement, action research, multiple choices
Abstract
Mobile messaging applications are increasingly widespread among the new generation of students in Indonesia. They use michat, line, WhatsApp and the other messaging applications. This study aimed to improve students' vocabulary achievement by using WhatsApp of VII C students of SMPS Panca Setya Sintang in the academic year 2022/2023. In one cycle, the writer used classroom action research on 19 male and 11 female students. The writer sent vocabulary instructions electronically for two meetings. The multiple-choice test was conducted after each meeting. The results showed that 63,33 % of the students could improve their achievement in the second meeting. It means that the use of WhatsApp in teaching vocabulary can improve students' achievement. Referring to the writer's experience in conducting action research, the writer offers a suggestion. It is suggested that English teachers can use WhatsApp as an alternative application to improve students' vocabulary achievement.
References
Afsyah, S. (2019). WhatsApp Application in English Language Teaching (ELT) Context: Media to Describe People. Utamax : Journal of Ultimate Research and Trends in Education, 1(1), 23–28. https://doi.org/10.31849/utamax.v1i1.2743
A'izah, F. (2020). Incorporating "Whatsapp" Into a University Vocabulary Development. Proceedings of the Eighth International Conference on Languages and Arts (ICLA-2019), 463, 302–306. Paris, France: Atlantis Press. https://doi.org/10.2991/assehr.k.200819.061
Cetinkaya, L. (2017). The Impact of Whatsapp Use on Success in Education Process. The International Review of Research in Open and Distributed Learning, 18(7), 59–74. https://doi.org/10.19173/irrodl.v18i7.3279
Creswell, J. W. (2012). Educational Research: Planning, Conducting, and Evaluating Quantitative and Qualitative Research. Pearson.
Endley, M. J. (2018). The Impact of WhatsApp on EFL students' Vocabulary Learning. Arab World English Journal (AWEJ), 9(1), 3–22. https://dx.doi.org/10.24093/awej/vol9no1.2
Fattah, S. F. E. S. A. (2015). The Effectiveness of Using WhatsApp Messenger as One of Mobile Learning Techniques to Develop Students' Writing Skills. Journal of Education and Practice, 6(32), 115–127.
Ferrance, E. (2000). Action Research. Providence, RI: Northeast and Islands Regional Educational Laboratory.
Hamad, M. M. (2017). Using WhatsApp to Enhance Students' Learning of English Language "Experience to Share." Higher Education Studies, 7(4), 74–87. https://doi.org/10.5539/hes.v7n4p74
Hashemifardnia, A., Namaziandost, E., & Esfahani, F. R. (2018). The Effect of Using WhatsApp on Iranian EFL Learners' Vocabulary Learning. Journal of Applied Linguistics and Language Research, 5(3), 256–267.
Indahwati, D. S., & Abdullah, M. H. (2019). Penerapan Model Pembelajaran Project Based Learning untuk Meningkatkan Hasil Belajar Siswa Kelas V Sekolah Dasae. Jurnal Penelitian Pendidikan Guru Sekolah Dasar, 7(6), 3542–3556.
Kemmis, S., & McTaggart, R. (2005). Participatory Action Research: Communicative Action and the Public Sphere. In The Sage handbook of qualitative research, 3rd ed (pp. 559–603). Thousand Oaks, CA: Sage Publications Ltd.
Kheryadi, K. (2017). The Implementation of "WHATSAPP" as a Media of English Language Teaching | Loquen: English Studies Journal. Loquen: English Studies Journal, 10(2), 1–13. https://doi.org/10.32678/loquen.v10i2.685
Koshy, V. (2005). Action Research for Improving Practice: A Practical Guide. Paul Chapman Publishing. Retrieved from https://repositorio.minedu.gob.pe/handle/20.500.12799/2912
Kumar, N., & Sharma, S. (2017). Survey Analysis on the usage and Impact of Whatsapp Messenger. Global Journal of Enterprise Information System, 8(3), 52–57. https://doi.org/10.18311/gjeis/2016/15741
Melda, P. (2020). Utilizing WhatsApp chat enchance students' writing skill through descriptive text at smpn 1 Sumarorong Mamasa. Basowa University.
Moghadam, S. H., Zainal, Z., & Ghaderpour, M. (2012). A Review on the Important Role of Vocabulary Knowledge in Reading Comprehension Performance. Procedia - Social and Behavioral Sciences, 66, 555–563. The Authors. https://doi.org/10.1016/j.sbspro.2012.11.300
Pebriantini, R., Hasanahwinny, A., & Riznanda, A. (2022). Is WhatsApp Beneficial Tool in Learning Writing? 1st International COnference on Education, 1, 120–127.
Phillips, D. K., & Kevin, C. (2010). Becoming a Teacher through Action Research: Process, Context, and Self-Study (2nd ed.). New York: Routledge. https://doi.org/10.4324/9780203861776
Rais, B., & Kristiawan, R. (2022). English Preservice Teachers' Perception of ICT: The Study on The Students From Rural Areas. English Review: Journal of English Education, 10(3), 821–830. https://doi.org/10.25134/erjee.v10i3.6452
Rais, B., & Sa'adah, L. (2022). How do English Teachers Perceive on Innovative Media? Descriptive Analysis at Sintang's Senior High Schools. Journal of English Educational Study (JEES), 5(2), 162–171. https://doi.org/10.31932/jees.v5i2.1932
Safitri, L. A. (2021). The Role of Whatsapp in Teaching Vocabulary To the Staffs of Umbul Ponggok Klaten. Jurnal Ilmiah Edunomika, 5(2), 773–780. https://doi.org/10.29040/jie.v5i2.2639
Salsabella, D. F. S. (2020). Students' Perception on the Use of WhatsApp Messenger as a Learning Tool in Writing Class. English Research Journal : Journal of Education, Language, Literature, Arts and Culture, 5(2). Retrieved from https://ejurnal.unisri.ac.id/index.php/engj/article/view/4480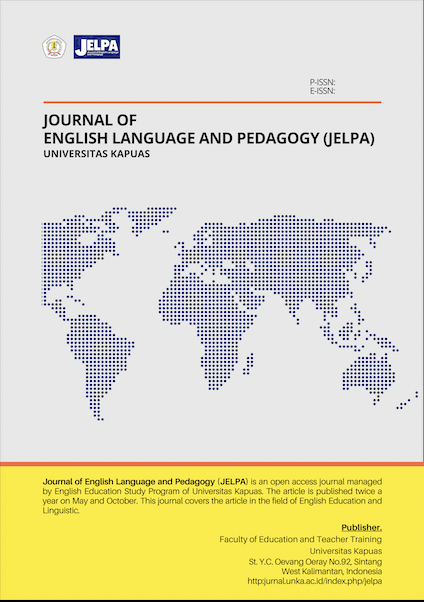 Downloads
How to Cite
Toni, A. (2023). Improving Junior High School students' vocabulary achievement by using WhatsApp. Journal of English Language and Pedagogy (JELPA), 1(1), 45–53. https://doi.org/10.51826/jelpa.v1i1.741
License
Copyright (c) 2023 Atrianus Toni
This work is licensed under a Creative Commons Attribution-ShareAlike 4.0 International License.
Authors who publish in this journal agree to the following terms:
The author holds copyright in any article.
The author grants the journal publication rights with the work simultaneously licensed under a Creative Commons Attribution License that allows others to share the work with an acknowledgment of the work's authorship and initial publication in this journal.
Authors may enter into separate, additional contractual arrangements for the non-exclusive distribution of the journal's published version of the work (e.g., posting it to an institutional repository or publishing it in a book), with an acknowledgment of its initial publication in this journal.
Authors are permitted and encouraged to post their work online (e.g., in an institutional repository or on their website) before and during the submission process, as this can lead to productive exchanges, as well as earlier and greater citation of published work.
The article and any associated published material are distributed under the Creative Commons Attribution-ShareAlike 4.0 International License